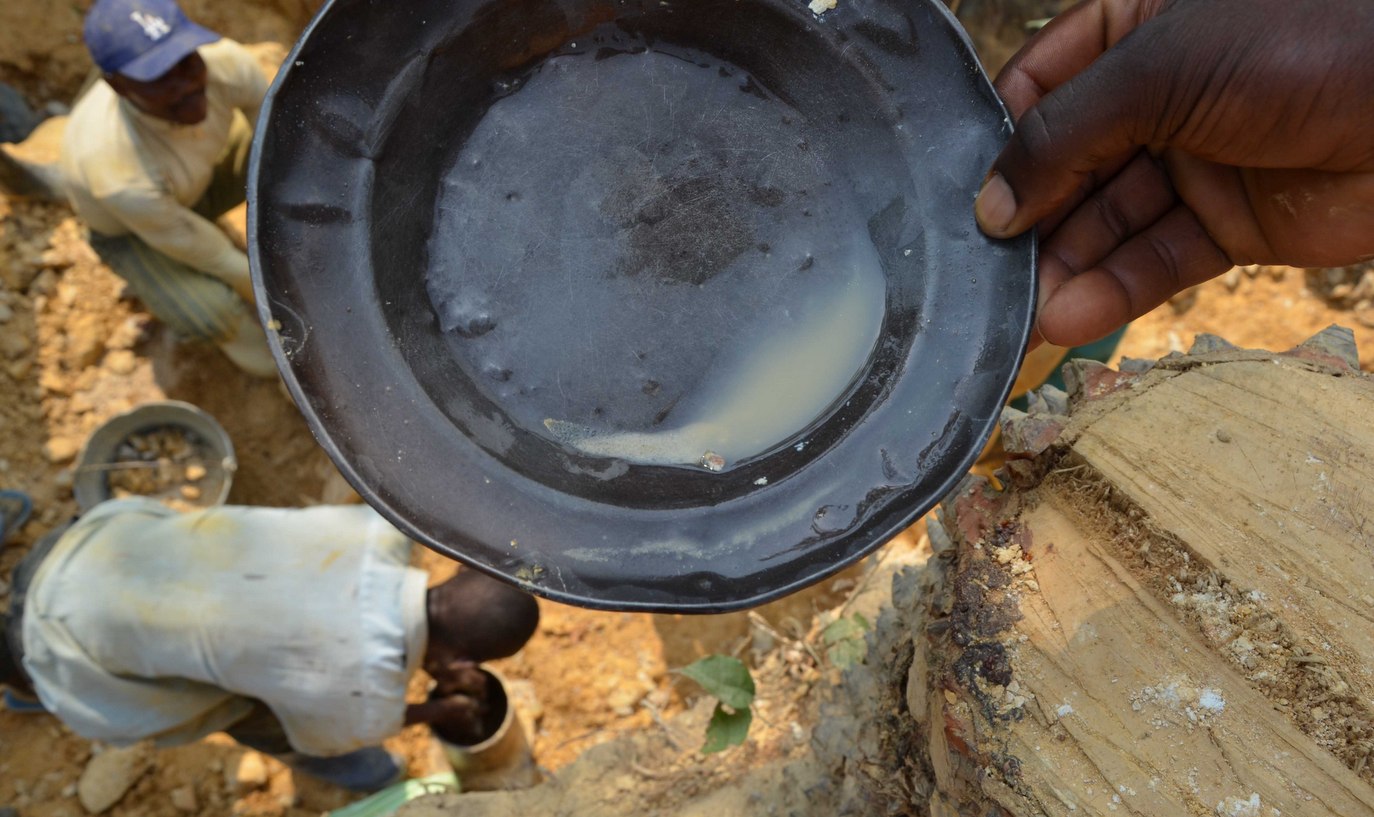 ---
IMPACT's Just Gold project is the first to successfully trace conflict-free and legal artisanal gold from mine site to export while applying regional and international standards applicable to conflict-affected and high-risk areas.
---
Through the Just Gold project, we create incentives for artisanal gold miners to channel their product to legal exporters—and eventually responsible consumers. As part of the project, the local traders we partner with buy the gold from miners at fair and transparent prices. We provide capacity building, such as technical assistance to miners, in return for legal sales. Miners are taught better extraction techniques and are offered Just Gold project equipment. In return, any gold they produce must be tracked and sold through legal channels. We've created the incentives for legal sales and work with miners, traders, and exporters to apply the Just Gold traceability and due diligence system.
While traceability and due diligence implementation models have addressed other conflict-prone minerals in Africa's Great Lakes region, the Just Gold project is the first system to be developed for gold. The Just Gold project was piloted in northeastern Democratic Republic of Congo's (DRC's) Ituri Province, in Mambasa Territory, with the project proving a successful chain of custody from mine site to exporter in May 2017. In June 2017, the first export of conflict-free artisanal gold from DRC was completed, with a jeweller in Canada importing 238 grams. The gold has been made into jewellery and marks the first time any consumer good has been made from conflict-free artisanal gold from DRC that is fully traced from mine site to consumer.
Currently, the project is moving from a period of testing to implementation and ensuring there is a long-term, sustainable, and viable solution for traceable, legal, and conflict-free exports of artisanal gold from DRC. The Just Gold project applies the Organisation for Economic Co-operation and Development's (OECD) Due Diligence Guidance for Responsible Supply Chains of Minerals from Conflict-Affected and High-Risk Areas and the regional certification standards of the International Conference on the Great Lakes Region (ICGLR).
---
Just Gold & Gender Equality
Integrating gender equality into the Just Gold project is a top priority. We've undertaken a complete gender analysis of the artisanal gold supply chain at the mine sites and in the mining communities where the project is active. The survey builds on our research on the role of women in the artisanal mining sector in the Great Lakes region.
Through the Just Gold project's technical assistance, we provide sensitization and outreach to improve understanding of women's rights and, in particular, their right to access, control, and benefit from natural resources. We also support and foster women's leadership opportunities with skills-building and training, including through our Artisanal Mining Women's Empowerment Credit & Savings project (AFECCOR). The Gender Assessment for Artisanal and Small-scale Mining (ASM) Technical Assistance and Formalization has been developed and piloted with the Just Gold project. The Assessment provides for a detailed understanding of how technical assistance and formalization policies and practices can affect women. It also provides solutions to ensure women's empowerment in the ASM sector.
Just Gold & Environmental Stewardship
With support from the United Nations Environment Programme (UNEP), the Just Gold project has conducted two environmental field assessments and developed steps to implement recommendations on environmental management techniques and technical assistance to reduce mercury use in gold mining. Experiences from the Just Gold project are disseminated through the UNEP Global Mercury Partnership.
Our technical assistance provides sensitization and outreach to improve understanding on environmentally responsible mining, ways to reduce mercury use, ecosystem management, and mine site rehabilitation. We offer training to miners on better gold recovery techniques, provide equipment to reduce mercury use, and engage with community groups and miners to carry out mine site rehabilitation and reforestation. Just Gold collaborates with government agencies, such as Democratic Republic of Congo's Service d'Assistance et d'Encadrement du Small-Scale Mining (SAESSCAM), to help them build their capacity to manage toxic waste, protect the environment, and rehabilitate mine sites.
---
Funding
A previous pilot was launched in 2014 with the support of the Public Private Alliance to test an incentive-based model for artisanal gold traceability in eastern DRC. The one year pilot and its lessons developed into the Just Gold project. The Just Gold project launched in 2015 and is funded by Global Affairs Canada, with additional funding previously provided by USAID, through their Capacity Building for Responsible Minerals Trade (CBRMT) project, and the International Organization for Migration. Funding for the project has also come from Apple and Humanity United.
---