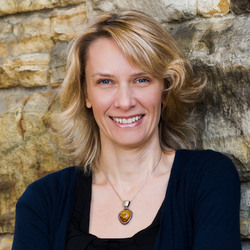 Joanne Lebert
Executive Director
Ottawa, Canada
Joanne joined IMPACT in 2011 and leads our work to improve how natural resources are managed where security and human rights are at risk. Her work has focused on contributing to responsibly-sourced, conflict-free minerals and she has helped Central African governments launch and implement a regional strategy to tackle conflict minerals. Joanne is a policy advisor, frequent guest speaker, and trainer to policymakers, private sector representatives, and civil society organizations.
Previously, Joanne was based at the University of Ottawa's Human Rights Research and Education Centre. She focused on gender-based violence in conflict settings in Africa and how it is impacted by the extractives industry. She was also Deputy Director of the Canadian non-profit, Peacebuild, where she worked to strengthen Canadian foreign policy options and practice. She carried out anthropological fieldwork for her doctoral studies in Namibia and Angola and was a Visiting Fellow in Refugee Studies at the University of Oxford. She has lectured at Carleton University and worked for the Organization for Security and Cooperation in Europe (OSCE) in Bosnia-Herzegovina and Croatia, Amnesty International, and CARE International in Zambia.
---
---
---
Communications Department
---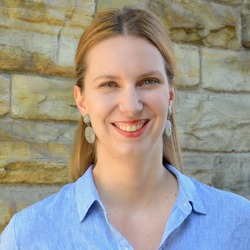 Zuzia Danielski
Communications Director
Ottawa, Canada
Zuzia provides strategic guidance for all of IMPACT's internal and external communications. She develops and implements communication strategies for our organization and projects, oversees the production of IMPACT's reports and other materials, and manages our media relations.
Zuzia is a multimedia storyteller with significant experience in supporting human rights organizations and campaigns to communicate effectively. Zuzia previously worked with the Nobel Women's Initiative, the International Campaign to Stop Rape & Gender Violence in Conflict, and advised numerous Canadian social justice groups in a communications capacity. She began her career in newsrooms, reporting out of the Warsaw bureau of The Associated Press and at National Geographic Poland. Zuzia holds a Master's degree in Conflict, Security and Development from King's College London where her research focused on sexual violence in conflict.
---
---
---
Field Operations Department
---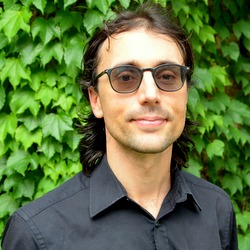 Jean-Marc Pagé
Field Operations Director
Ottawa, Canada
Jean-Marc oversees IMPACT's field operations, including supervising field staff, managing project planning, development, and reporting, and ensures the delivery of high-quality programming. He also manages collaborations between IMPACT and our project partners.
Jean-Marc is a highly experienced operations manager, specialized in working in conflict-affected and fragile states. He previously worked with War Child, International Rescue Committee, and Oxfam overseeing programs focused on child protection, disarmament, demobilization, and reintegration of combatants into society. He has worked internationally in Nepal and Burundi, and extensively in the Democratic Republic of Congo. Prior to joining IMPACT in 2016, Jean-Marc worked in partnership management at the University of Montreal. Jean-Marc holds a dual Master's degree in Administration from Sherbrooke University and the Institute of Public Management and Territory Governance in France.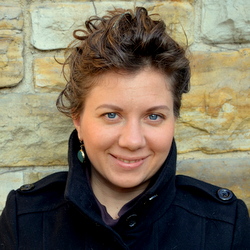 Carmen Teichgraber
Program Director
Ottawa, Canada
Carmen is IMPACT's expert in training and capacity development. She leads our work with the International Conference of the Great Lakes Region (ICGLR), supporting the implementation of the Regional Certification Mechanism and Organisation for Economic Co-operation and Development's Due Diligence Guidelines in ICGLR Member States. She also coordinates with regional civil society organizations to advance and improve due diligence, monitoring, and reporting.
Carmen has an extensive background in international project management, partnership building, and capacity development. She has worked in Burundi, Zambia, Ghana, Nigeria, Peru, the Caribbean, and Palestine for various NGOs including the Canadian Red Cross and Canadian Hunger Foundation, as well as for the Government of Canada's Office of the Commissioner for Federal Judicial Affairs. Carmen holds a Master's degree from the Norman Paterson School of International Affairs at Carleton University, where her studies focused on international development.
Brahima Bakayoko
Project Manager
Abidjan, Côte d'Ivoire
Brahima supports IMPACT's work to implement the Just Gold project in Côte d'Ivoire. He coordinates activities in Abidjan and in Dabakala, liaising with local stakeholders, including government officials.
A lawyer by training, Brahima has significant experience working with international non-governmental organizations on democracy, human rights, good governance, and gender equality. In recent years, his work focused on improving the governance of natural resources and he was part of the team that supported implementing the conditions in Côte d'Ivoire that led to the lifting of the embargo on diamond exports. Brahima brings to IMPACT experience working on the artisanal mining sector, mining legislations in West Africa, and multi-stakeholder initiatives related to natural resources, including the Kimberley Process, EITI, and the OECD Due Diligence Guidance.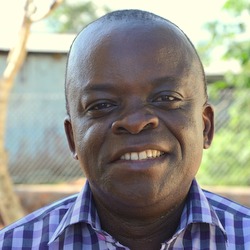 Félicien Mbikayi Cimanga
Governance Advisor
Kinshasa, Democratic Republic of Congo
Félicien is the liaison between IMPACT and government officials in Kinshasa, which includes attending meetings with the Ministry of Mines on behalf of IMPACT, coordinating visits to Just Gold project sites, and monitoring the political climate in the Democratic Republic of Congo (DRC) to mitigate risks.
Félicien has close to 30 years' experience as a project manager, consultant, and facilitator specializing in rural development and natural resource management. He previously served as the Kasai Oriental province Focal Point for the DRC Natural Resources Network, as Secretary General for the National Council of Development NGOs, and was a member of the Extractive Industries Transparency Initiative (EITI) technical committee in DRC for five years. Since 2005, he has also been president of a group to support citizen participation in the management of natural resources in DRC. Félicien completed an advanced degree in rural development from the Institute of Rural Development in Bukavu, DRC.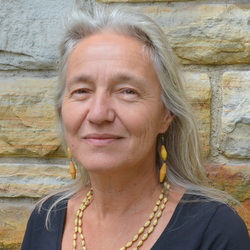 Gisèle Eva Côté
Senior Gender and Social Inclusion Specialist
Montreal, Canada
Gisèle leads IMPACT's gender work, developing, implementing, and overseeing gender equality strategies in consultation with local communities. She trains staff members, stakeholders, and community groups on women's rights. Gisèle also leads our research on gender and liaises with stakeholders to develop recommendations on women's empowerment in the extractive industry for policymakers at all levels of government.
Gisèle has over 25 years of international experience, including designing and managing projects that address human rights, women's rights, and indigenous rights, as well as rights to land and natural resources. She is skilled in program evaluation and alliance building and has extensive field experience with grassroots and non-profit organizations in Latin America and Africa (in particular, in Democratic Republic of Congo). Gisèle's research has focused on crimes of sexual violence in conflict and post-conflict contexts and examining mining issues through a gender lens.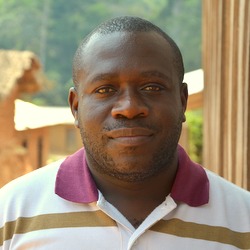 Jean Paul Lonema
Project Manager
Ituri Province, Democratic Republic of Congo
Jean Paul supports IMPACT's work in mineral certification and due diligence in French-speaking countries in the Great Lakes region. He liaises with International Conference of the Great Lakes Region (ICGLR) Secretariat staff and government officials to carry out stakeholder sensitization and to coordinate capacity building and other technical training.
Jean Paul is a former community development officer, consultant, and researcher, specializing in the mining sector. In his previous roles he provided technical advice on artisanal gold mining, analyzed mining contracts and other aspects of the industrial mining sector, and provided training on mineral taxation, the mining code, and Extractive Industries Transparency Initiative (EITI) process. Jean Paul studied philosophy and theology and pursued a Bachelor's degree in Economic and Social Law at the University of Bunia.
Lynn Gitu
Program Leader
Kampala, Uganda
Lynn supports IMPACT's work in mineral certification and due diligence in English-speaking countries in the Great Lakes region. She liaises with International Conference of the Great Lakes Region (ICGLR) Secretariat staff and government officials to carry out stakeholder sensitization, and to coordinate capacity building and other technical training.
Lynn is a legal professional with an emphasis in social justice. She specializes in conflict analysis, policy analysis, women's empowerment and natural resource governance. She has previously held positions with Africa Institute for Energy Governance and International Alert, implementing and managing advocacy programming focused on better management of energy and extractives in East and Central Africa. Lynn holds a Bachelor of Law from Makerere University in Uganda.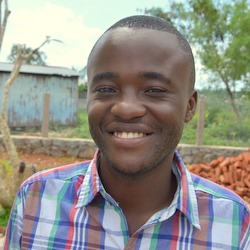 Oscar Katho
Traceability Officer
Ituri Province, Democratic Republic of Congo
Oscar manages the Model Trading House (Maison D'Achat Modèle—MAM) and supervises five mini-MAM agents at Just Gold mine sites in DRC's Ituri Province. He ensures the smooth operation of the transactional system, reports on export activities, and ensures traceability of the supply chain from mine to export.
Oscar joined IMPACT in 2015 and brought with him knowledge and experience in mine verification, gold sales, and gold processing. He previously worked in the gold sector in Ituri and was involved in sales for a licensed gold trader. Oscar is an agricultural agronomist at the University of Bunia and he completed a degree in Information System Management in Kampala, Uganda.
---
---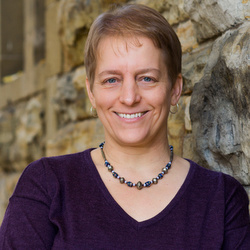 Finance and Administration Director
Ottawa, Canada
Josée has led IMPACT's Finance Department since 2005, overseeing all finance and administrative needs, both at our headquarters and in the field. This includes monitoring project expenses, ensuring we meet financial standards set by our donors and auditors, and producing financial reports.
Josée brings extensive experience in finance and administration from various organizations, as an employee as well as a member of several Boards of Directors. She gained international experience through work placements in Togo, Mali, Nicaragua, and Spain. She also worked as a civil engineer in Canada and Nepal before redirecting her career to finance and administration. Josée obtained a degree in civil engineering from the University of Laval.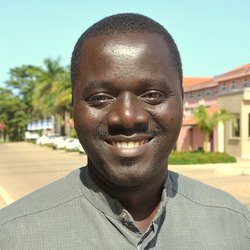 Jacob Omal
Finance and Administration Officer
Kampala, Uganda
Jacob oversees finance and administrative activities in IMPACT's Uganda office, including financial procedures, administrative controls, and bookkeeping. He also provides logistical support, managing travel arrangements for staff traveling to and within the region.
Jacob joined IMPACT in 2017, bringing with him over 15 years of experience in accounting, financial management, human resources, office management, and general administration. He also has experience working in conflict and post-conflict areas. Jacob previously worked for Child Fund International and War Child Canada in Uganda and he played a key role in establishing War Child Canada's operations in South Sudan. Jacob holds a Master's in Business Administration, with an emphasis in finance and accounting, as well as a Post Graduate Diploma in Project Planning and Management, both from Gulu University in Gulu, Uganda. He is a member of the Association of Chartered Certified Accountants.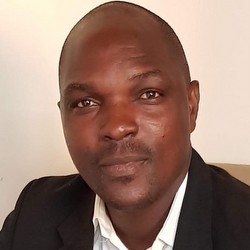 Soulemane Kone
Finance and Administration Officer
Abidjan, Côte d'Ivoire
Soulemane oversees finance and administration for IMPACT's team in Côte d'Ivoire, especially in support of our Just Gold project. This includes managing financial procedures, administrative controls, and bookkeeping.
Soulemane joined IMPACT in 2019 and brings over 11 years of experience supporting international non-profit organizations including CARE-CI and the Aga Khan Foundation with finance and accounting. He has significant experience working with various donors including the European Union, USAID, CIDA, and numerous foundations. Soulemane has a Master's degree in Audit, Controls, and Management and a Senior Technical Certificate in Financial Accounting.
---
---

Gerard van der Burg
 Innovation Director
Ottawa, Canada
Gerard develops and enhances systems to improve natural resource governance and ensure long term sustainability of our projects. He liaises with market actors and impact investors to explore and develop new models of financing. Gerard also oversees IMPACT's monitoring and evaluation systems.
Gerard is an international development professional with over 30 years' experience. He has worked as an advisor, facilitator, and manager specializing in natural resource management for private sector companies and non-profits in Canada, Europe, Latin America, and Africa. Gerard has spent the last 15 years applying his expertise in Program and Performance Management and Systems Analysis. His innovative work has been recognized with a Smithsonian Institution award honoring those who use information technology to benefit society. Gerard holds a degree in Forestry from Lakehead University and Master's Certificate in Business Analysis from the SPROTT School of Business at Carleton University.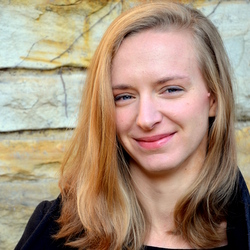 Victoria Reichel
Monitoring & Evaluation Manager
Ottawa, Canada
Victoria provides technical guidance on the implementation and management of IMPACT projects. She has a special interest in providing opportunities for women's empowerment in supply chains. Currently, she oversees AFECCOR, our credit and savings project for artisanal gold miners, which promotes women's entrepreneurship. Victoria is an economist and supply chain specialist with a multidisciplinary background.
Before joining IMPACT in 2015, she worked with Fairtrade Canada on developing traceable and ethical supply chains in the coffee and non-food sector. She also has experience working at numerous research centres in France where her work focused on participatory practices in environmental conflict situations across a variety of sectors, including land use, water management, and mining. She holds a Master's degree in Environmental Economics from the School for Advanced Studies in the Social Sciences (EHESS) in Paris and a Master's degree in Environmental Knowledge Mediation from the University of Versailles.
---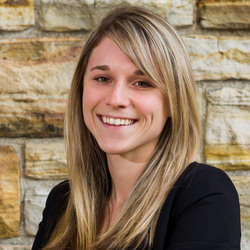 Kady Seguin
Policy and Research Director
Ottawa, Canada 
Kady is IMPACT's primary liaison with downstream market actors in the mineral sector, engaging with private sector actors to encourage responsible sourcing and due diligence efforts. Kady also leads our engagement in a variety of multi-stakeholder forums aimed at improving natural resource governance.
Kady joined IMPACT in 2009. She has worked with the Publish What You Pay (PWYP) Canada coalition and was involved in the successful campaign to secure legislation in Canada that requires the disclosure of payments made to governments by oil, gas and mining companies around the world. Kady has also led capacity building efforts that help civil society organizations understand and use the publicly disclosed information in their work. Kady holds a Master's degree in Globalization and International Development from the University of Ottawa, where her research focused on the Voluntary Principles on Security and Human Rights.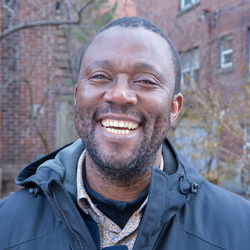 Patience Singo
Senior Mining and Environment Advisor
Kampala, Uganda
Patience is IMPACT's technical expert on artisanal and small-scale gold mining. He advises on and implements technical assistance for the Just Gold project. He also assists with our strategies to improve governance systems, including mercury reduction and addressing other environmental impacts of artisanal and small-scale gold mining.
Patience has a wealth of experience in project management, government and stakeholder engagement, as well as vast technical knowledge specific to mining. Patience worked for nearly a decade as Project Director of a sustainable artisanal mining project with the Swiss Agency for Development and Cooperation in Mongolia and was previously a Technical Advisor on the United Nations Industrial Development Organization's global project to reduce mercury use in ASGM. His extensive international work includes studies and projects throughout Africa, South America, and Asia. Patience holds a Bachelor of Science degree in Mining Engineering from the University of Zimbabwe and a Master's in Business Administration from Delta International University in New Orleans. He is currently pursuing a Master's degree in Natural Resource Law and Policy at the University of Dundee.
---
---