New technology uniquely adapted to artisanal mining and complex environments, supports communities sharing traceability, due diligence, and impact information in exchange for fair compensation.
April 12, 2018—Ottawa/Toronto, Canada
IMPACT and Consensas today announced their partnership on a solution for companies to confidently source minerals from conflict and high-risk areas while compensating women and men in local artisanal mining communities for supply chain transparency.
IMPACT is an international non-profit organization with over 30 years' experience transforming how natural resources are managed in areas where security and human rights are at risk. Consensas is a technology company delivering scalable solutions for risk management, supply chain traceability, and due diligence.
Working together, IMPACT and Consensas are providing a unique solution to challenges companies face when sourcing minerals from conflict and high-risk areas, which includes poor internet, inadequate or missing data, or out-of-date information.
"Worldwide, companies face increasing pressure from governments, media, and importantly—their consumers—to know where their minerals come from and to address possible risks in their supply chain, such as conflict financing, corruption, and human rights abuses," said Joanne Lebert, IMPACT's Executive Director.
"We're excited to combine our expertise in natural resource governance, mineral supply chains, development, human rights, and monitoring and evaluation with Consensas' technology. Together, we can encourage both responsible sourcing and provide a sustainable solution adapted to the artisanal mining communities we work with," added Lebert.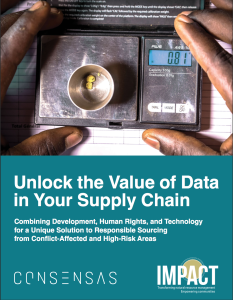 Technology solutions need to reflect the realities of conflict and high-risk areas. Our solution takes into account the needs of artisanal miners, communities, and governments. The platform has been designed to incentivize every actor in the supply chain to participate by assigning data ownership, autonomy, and recognition, as well as compensating local actors for the value of the data they share with companies.
It is a multilingual, inexpensive, and scalable technology platform to cryptographically preserve and manage information. Through data harmonization, real-time insights, and alerts, it significantly reduces the burden of regulatory compliance and reporting for companies.
The platform takes the best from blockchain and tailors it to be uniquely adapted for small-scale actors, including artisanal mining communities, and in complex environments. The platform is fully functional and secure offline, low cost, and provides multiple automated and manual methods to verify its data's accuracy.
The platform is unique in its ability to collect gender-disaggregated impact data, in addition to traceability and due diligence information. This allows companies to accurately report on security and development at the community level, address unintended consequences, while promoting positive impacts.
"As a technology company, partnering with an international non-profit has been invaluable. IMPACT's strong presence on-the-ground in Democratic Republic of Congo is allowing us to build this platform with real-time, meaningful data. Creating our solution from the ground up ensures our technology works well for companies, and equally important, works well for mining communities," said Ryan Taylor, CEO of Consensas.
"It's clear that companies can't avoid sourcing in challenging environments, such as mining cobalt in Congo. As the market for consumer electronics and electric cars grows, the demand for cobalt increases. With over 50% of cobalt in Congo, companies need the right tools to source responsibly, identify risks, and understand the impact of their sourcing. We provide comprehensive traceability, due diligence, and impact data—and the confidence that it's accurate, up-to-date, and secure," added Taylor.
The Consensas platform is being implemented as part of IMPACT's Just Gold project, the first to successfully make traceable, legal, and conflict-free artisanal gold from Democratic Republic of Congo available to international markets. IMPACT and Consensas are testing the applicability of the solution for other conflict-prone minerals such as cobalt, sapphires, or diamonds, as well as other natural resources in areas where security and human rights are at risk.
Read More
Unlock the Value of Data in Your Supply Chain: Combining Developing, Human Rights, and Technology for a Unique Solution to Responsible Sourcing from Conflict-Affected and High-Risk Areas
-30-
For information about IMPACT:
Zuzia Danielski
Communications Director, IMPACT
+1-613-237-6768 ext 310 / +1-613-263-0661
zdanielski@impacttransform.org
For information about Consensas:
Meghan Warby
Communications, Consensas
Canada & US 1 (844) 988-7884 / International +1 1 (647) 503-3511
meghan@consensas.com
IMPACT, formerly Partnership Africa Canada, transforms how natural resources are managed in areas where security and human rights are at risk. We investigate and develop approaches for natural resources to improve security, development, and equality. We are an independent non-profit collaborating with local partners for lasting change.
The Consensas platform uses a unique blend of cryptography and structured data to validate information in the world's most complex supply chains. It was designed to bring inexpensive solutions to share the power of information between stakeholders, which significantly reduces compliance burdens and inequality. Consensas believes that technology can rebalance supply chains, and that data is a resource that can create new value—not cost organizations additional premiums.
Photo: Sven Torfinn/IMPACT