There is an urgent need for financial services in artisanal gold mining communities.
Formal financing such as banks or microfinance institutions haven't reached most remote communities, and often avoid lending to actors in the artisanal gold sector. Many don't have access to bank accounts or loans. Women are even further disadvantaged.
This is where community savings groups, like Village Savings and Loans Associations (VSLAs) come in.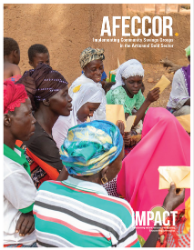 VSLAs offer an alternate solution to informal financing, providing entry-level financial services to populations who have little-to-no experience with savings and loans. By having access to savings and credit, miners can invest in alternative livelihoods and income generating activities, save for emergencies, and decrease their reliance on informal credit networks.
IMPACT first launched the AFECCOR project in 2017 in Democratic Republic of Congo and expanded it to Burkina Faso in 2021, through the Foundations for Peace project.
Read more about the AFECCOR project and its approach to gender-transformative financial inclusion.
Savings and Loans for Community Members
In Burkina Faso, IMPACT helped establish 54 VSLAs in Centre-Ouest and Centre-Nord. More than 1,300 members joined the groups—and over 80 percent of members were women. Focused on five artisanal mining communities across the two regions, the VSLAs mostly included artisanal miners, but also tradespeople, farmers, and others.
During the first year of savings, running between December 2021 and December 2022, members were able to collectively save an impressive amount: over $131,000 USD across all 54 groups.
Each member saved approximately $8 USD per month. This is a significant amount when compared to the local income. Based on IMPACT's research across the two regions, men earn an average of $98 USD per monthly and women—only $28 USD.
Most members took loans from their groups—94 percent of women and 87 percent of men. Most members used savings or loans to launch or reinforce income-generating activities in small trades and services, for instance transport and food service (43%). This directly contributes to diversify local economies of rural mining communities, which otherwise tend to heavily depend on imports from other, more agricultural regions. Others used their loans and savings to ensure their family's food security (20%), pay for school fees (18%), medical expenses (17%), or funeral costs (2%).
Solidarity Fund Supports Community Projects
In addition to weekly savings, members contribute to a Solidarity Fund which acts as an insurance for any unexpected expenses group members may experience that may impact their well-being. The groups raised almost $7,694 USD for the Solidarity Fund—supporting members to pay for funerals and medical expenses.
Instead of cashing out the remaining funds, members decided to pool them to support their communities. In Centre-Ouest, the VSLAs in the area purchased 14 mattresses for two health centers, while in Centre-Nord the funds went to various community beneficiation projects including a new well, fixing a school latrine, and repairing a road. The donations have been well received by customary authorities in the two regions, who have publicly reaffirmed their support for the community savings groups.
Read more about the results from AFECCOR in Burkina Faso.
After the first financial cycle, all 54 VSLAs have chosen to continue. In addition, 19 more VSLAs are forming—6 in Centre-Nord and 13 in Centre-Ouest.
The introduction of VSLAs to artisanal gold mining communities is an integral strategy to any responsible sourcing project. It is a proven model to support financial inclusion and move towards formalization.
Interested in introducing community savings to a mining context? Read our top recommendations.
AFECCOR was implemented in collaboration with the Alliance for Responsible Mining (ARM), as part of the Foundations for Peace project. Foundations for Peace is undertaken with the financial support of the Government of Canada provided through Global Affairs Canada.
---
Interested in learning more?
Newest report: how a lack of accessible financing options for artisanal miners fuels informal and illicit gold trade.
Meet Elélé and Juliette, members of a VSLA in Burkina Faso.
Ernest, Furaha and Modestine access savings and credit through the AFECCOR project in Democratic Republic of Congo.
How community savings groups support formalizing the artisanal mining sector.