According to the World Bank, only 26 percent of people in Democratic Republic of Congo have a formal bank account. In Mambasa Territory, an artisanal gold mining community in Ituri Province, that number drops significantly. Only 1% of women miners and 3% of male miners have a bank account according to data gathered by IMPACT.
The gap of banking institutions in artisanal gold mining communities is often filled by informal and predatory credit networks. Gold is often used as currency to cover basic needs, small businesses, and mine site operations—often with unfavourable conditions.
With the Artisanal Mining Women's Empowerment Credit & Savings Project (AFECCOR), we supported women and men in artisanal gold mining communities to establish Village Savings and Loan Associations (VSLAs).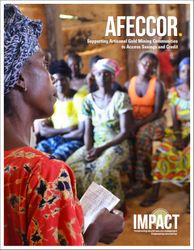 Learn more about how the AFECCOR project supports artisanal gold mining communities access savings and credit—and the first results from Democratic Republic of Congo.
Over 1,400 community members came together in DRC's Ituri Province to establish 50 groups, with each member contributing a small amount to savings on a weekly basis.
The groups provided loans to their members and over 1,200 loans were distributed over the first financial cycle in 2018. Members invested into new and growing businesses that would provide economic security in the artisanal gold mining community.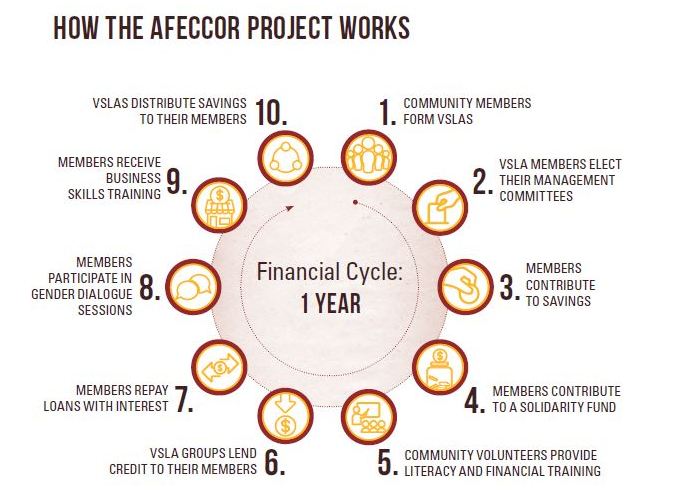 The AFECCOR project is one of the first case studies that documents how the VSLA model has been introduced to an artisanal gold mining community. In addition, the AFECCOR project focuses on promoting women's economic empowerment and leadership, addressing how women most often remain invisible in the local gold economy. As a result, 80% of the VSLA groups had women-led management committees and women took full advantage of the project—contributing 73% more to savings.
Watch Ernest, Furaha, and Modestine share their experiences increase their savings and invest in their businesses through the AFECCOR project.
Importantly, the AFECCOR project supported the community in reducing its use of gold as currency, as only cash is accepted as savings. Not only do members no longer have to turn for loans to actors who may be illicit, but it can also lead to more gold channelled into legal supply chains.
The project has become sustainable with 48 groups kick-starting a second financial cycle and community volunteers supporting 20 new VSLAs to begin savings.
Results from the AFECCOR project and its implementation in DRC have been published in The Extractive Industries and Society academic journal. Find out more about the article here.