We're pleased to share our newly released Annual Report for 2021-2022, Paving the Way to Responsible Supply Chains.
Despite the challenges caused by the COVID-19 pandemic, IMPACT was able to further our mission to support local actors—strengthening old partnerships and creating new ones that center their skills, knowledge, and leadership.
In 2021-2022, through trainings, consultations, and engagement, we directly worked with:
6 mining associations
+330 local government officials
+3,300 artisanal miners – from which 73% are women
Our team of 24 staff and associates worked with 22 partners in 8 countries around the globe on 20 projects.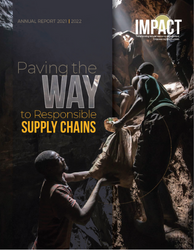 Efforts towards responsibly sourced artisanal cobalt from Democratic Republic of Congo
How an artisanal gold mining cooperative in Côte d'Ivoire is breaking barriers on the international market
New Village Savings and Loans Associations for Burkina Faso's artisanal gold communities
Mapping taxes and fees across Democratic Republic of Congo's artisanal gold supply chain to reduce corruption
Supporting gender equality in Uganda's new Mining and Minerals Law
Our work to harmonize monitoring & evaluation for responsible supply chains globally
We thank all of our funders, partners, supporters—and most of all, the communities we work with—for their continued support. We look forward to building on the results we achieved together this year.