Artisanal mining is an important source of income and employment, particularly for poor, rural populations. According to the World Bank, there are approximately 100 million artisanal miners who rely on mining as their source of livelihood.
The context surrounding artisanal mining in different regions varies. In some cases, artisanal mining has been a source of livelihoods for families and communities for decades. In other cases, the high value of minerals, particularly during periods of high prices, draws populations looking for income during conflict or insecurity.
In many developing countries, the government's ability to regulate the artisanal mining sector is weak. Many artisanal miners continue to operate in an informal manner, where legal or regulatory frameworks may not exist.  Legal access to minerals may be limited as well as access to capital, equipment, and technical assistance.
Governments around the world have taken different approaches to working with artisanal miners and managing the artisanal mining sector. Several countries have introduced policy measures trying to legalize or formalize artisanal mining with varying results.
IMPACT recently documented best practices of formalization from three countries—Colombia, Democratic Republic of Congo, and Mongolia.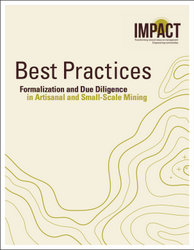 Our report, Best Practices: Formalization and Due Diligence in Artisanal and Small-Scale Mining, provides an overview of the artisanal mining sector as well as lessons learned from the three case studies.
The artisanal mining sector can be susceptible to conflict financing and corruption—with artisanal miners having limited options for protection when targeted by armed groups or corrupt actors.
Formalization is part of an effective strategy to break the link between the trade of artisanal minerals and armed conflicts or illicit actors. Formalization can lead to greater transparency, making it easier to identify illicit actors.
Formalization processes can include the introduction of legal and regulatory frameworks, providing legal access to mineral information about geological data, organizing miners into flexible and dynamic organizations such as cooperatives, and providing access to capital, equipment, and technical assistance.
IMPACT's research found that the case studies in Colombia, Democratic Republic of Congo, and Mongolia had a number of common themes that other governments can consider when looking at creating enabling environments for their artisanal mining sector.
Importantly, prohibition and criminalization were not effective and failed to make meaningful progress in managing the sector. Additionally, any formalization of the sector had to start off with the proper policies and legislation.
Read more about formalization of the artisanal mining sectors in Colombia, Democratic Republic of Congo, and Mongolia in our full report.